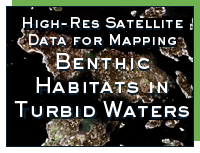 High-Res Satellite Data for Mapping Benthic Habitats in Turbid Waters
With respect to the Swedish environmental goals, consideration should be given, in connection with fishing, shipping and other uses of seas and water areas, as well as construction and other development in coastal and archipelago areas, to the productive capacity, biological diversity, natural and cultural assets and outdoor recreation assets of the water areas. These considerations require knowledge and information about the status of the subsurface environment and the need for mapping of these areas has increased. During many years, information about these areas has been collected through field investigations. These field surveys generate point wise data with high level of detail, but only for a very limited area. Satellite data that covers larger areas could be a good complement to these field investigations and a support for planing activities.
The general goal is to investigate the possibilities to develop a method for classification and mapping of hard- and soft bottoms and different vegetation types in shallow coastal areas. The purpose is to derive information that will facilitate the environmental work and decision making for a number of authorities.
Classification of shallow sea beds in high resolution satellite data
Info
Duration: 2006 - 2011
The project is funded by the County Administrative Board - Östergötland, by the Municipality of Norrköping, by the Swedish Environmental Protection Agency, by the Swedish National Space Board and by the World Wide Fund for nature - WWF.
Contact: Petra Philipson, petra.philipson@brockmann-geomatics.se
Customers and Partners
Classification of shallow sea beds – a pilot study east of Gräsö
Info
Duration: 2009 - 2010
The project is funded by the County Administrative Board of Uppsala, by the Swedish Environmental Protection Agency and by the Swedish National Space Board.
Contact: Petra Philipson, petra.philipson@brockmann-geomatics.se
Customers and Partners