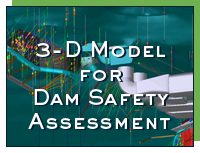 3-D Model for Dam Safety Assessment
Dam safety analysis requires that the engineers involved create views of the dam that may be different to the conventional plans, elevations and sections provided by engineering drawings. The complexity of decision-making for dams requires an improved approach for handling and analysing the vast amount of information.
The 3-D modelling environment enables the engineer to create almost instantly whatever view is appropriate for the analysis problem under consideration. Given a complete representation of the "state" of the system, the engineers responsible for analysing the performance of dams and assessing their safety can then create hypotheses of how dams perform.
A custom-made 3-D model of dam facilities can be created and used to improve dam safety assessment
The 3-D model consists of information from drawings, documents, boreholes, instrumentation, geological mapping, aerial and terrestrial laserscanning, aerial photographs and bathymetric measurement from boat.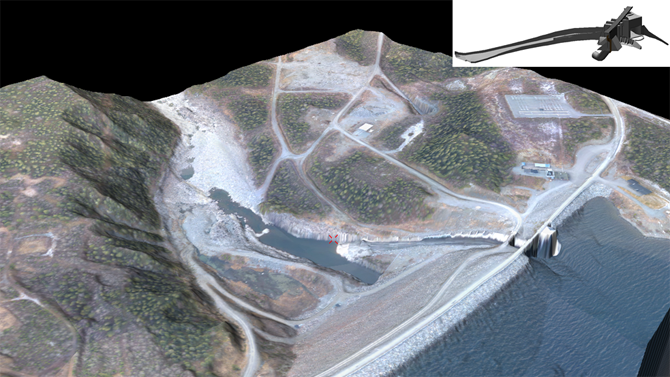 Perspective view of the Ajaure dam created from a 3-D PDF file.
Info
Customers and Partners