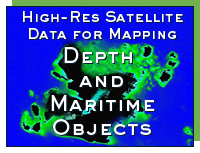 High-Res Satellite Data for Mapping Depth and Maritime Objects
The general purpose of this project is to evaluate the possibility of using high resolution satellite data to collect information about a number of nautical objects and, to investigate to what extent the information collection process could be automated, to develop a strategy to include the satellite data in the existing nautical database at SMA and to test the developed strategy in a pilot production.
Background
The Swedish Maritime Administration (SMA) distributes official nautical charts and publications in Swedish waters and different methods and techniques are used to collect the relevant data. Remote sensing is one of the techniques that has only been used to a very limited extent so far but that has the potential, especially in shallow areas, of improving the contents of nautical charts.
Info
Customers and Partners